All over the place I hear "Unemployment is a lagging indicator!". This is the mainstay of the bull case, especially this week where non-farm payrolls came in at -500k. Bulls are basically saying that since unemployment ticked up, and this is a lagging indicator, it shows recovery is underway and the markets will now follow.
-500k jobs lost in a month? Better than expected? BUY!
Anyway here's a little research I've done to demonstrate that unemployment is a
leading indicator
and in the previous bear market, unemployment bottomed about a year before the stock market did.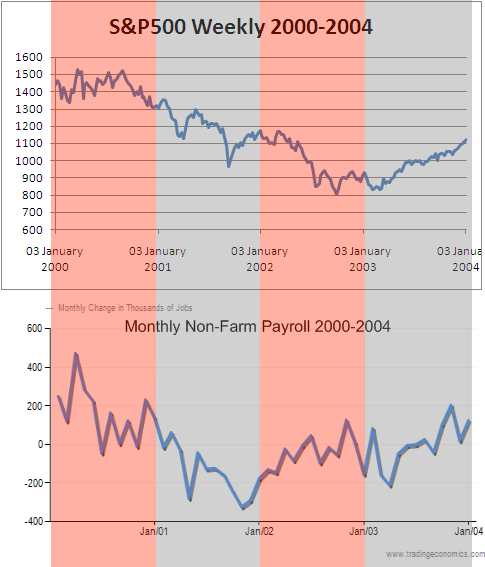 So if we are following this same scale, if unemployment continues to tick up, in our current bear market we're at the late 2002 stage, meaning after this bull run, which could last anywhere from 6 months to a year or so, there will be new lows in 2010-2011.
Be careful all and don't necessarily think the worst is behind us. The US economy is 70% dependant on consumer spending, credit and mortgages, which unemployed people just can't pay. This means there is likely more pain in the offing for the markets to come.
GLTA