Today I wanted to release the first edition of the HPS cheat sheets. One of the reasons is for a update is a new revision of the candlestick indicator. I will go into this indicator in detail in a upcoming video, but for a recap it is a signal generated only when stochastics are at extreme levels and break above previous days highs after a 3 or more day down trend where we see lower highs and lower lows.
"Described as a buy trigger here, but opposite applies to short trigger"
But it is always a good review to break down how to get to a HPS setup and that's where the cheat sheets come in. Each one that will be released will show specific recurring patterns that I look for in the market and when this pattern forms I cross reference with the 5 indicator methodology. making sure we have both pattern and 3 or more indicators aligning for a trade short or long.
Cheat Sheet 1 (Review of a HPS set up) with Flow chart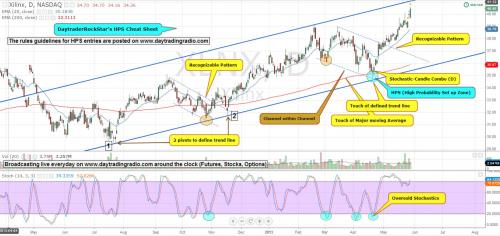 Link to chart 1 larger view
:
http://daytradingradio.com/include/d...at-sheet.jpg?f
Link to chart 2:
http://daytradingradio.com/include/d...thod-(3).png?f
in addition this will be the outline of the High Probability Course posted in the members forum. Each indicator will be broken down into its own webinar and archived on the site.
There might be terms you might not be familiar with but it will be all broken down in chapters.
http://daytradingradio.com/amember/go.php?r=4912&i=l0